1st Alcona - Sea Scouts, Venturers & Rovers
Serving Innisfil, Barrie & Area.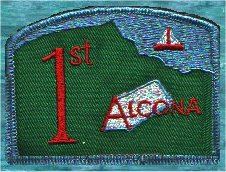 Sea Scouting
The group of 1st Alcona is host to one of few Sea Scout companies in the whole of Ontario. From the beginning of May up until Thanksgiving, we participate in evening sailing about twice a week. For the remainder of the year, our group participates in a variety of activities, including a number of camps, hikes, and other expeditions . Typically each year during the summer our group holds either an extended camp, where we sail the groups's smaller boats and do a number of other different activities, or we sail go on a cruise to a different place each day. We also participate in camps with other Scouting groups, and many of our members have attended several Canadian Jamborees (CJ).

Our whole program is based on sailing and the water. We model our troop on how sailing ships were organized in days past, as such we use nautical terms in place of landlubber talk. For example, the troop is known as the ship's company, patrols are known as crews, etc, and ceremonies are carried out in a similar fashion. The awards program remains the same as in land scouts, but being sea scouts gives advantages to completing some of the awards that many land scouts do not get.

Our combined Sea Venturer & Rover program is unique in Ontario. We operate our program continuing many Sea Scouting traditions. Activities are planned by the company, based on award requirements or just for fun. Each summer we do a summer cruise, travelling lake Simcoe or Georgian bay. While it remains at the discretion of the individual member, members are encouraged to work towards the Venturer awards program, as well as the Duke of Edinburgh Award.

For a listing & photos of the boats in our fleet, check out The Fleet
| | |
| --- | --- |
| | |
| Bailing after being turtled. | This is referred to as 'gunwhale bobbing'. |
Lunchtime on a late fall hike.
Check out our photo archives to see more activities:
Sea Scouting Trips & Activities
Venturing Trips & Activities
The Fleet
CJ'01
Our group is always eager to welcome new members. All sections are open to any interested youth, Sea Scouts from ages 11 - 14, Sea Venturers from ages 14 - 18 and Sea Rovers from ages 18 - 26 (exceptions are often made). Adult volunteers and leaders are always needed as well.

For more information on becoming a member, check out our display at the Bayfield Mall in Barrie during Scoutweek, Feb. 19 - 24, 2007.

1st Alcona is a non profit group and can only survive by the donations of others. All donations are accepted, and help our group out immensely.
Tax receipts can be issued for donations (upon request).